VIDEO FEATURE & WEB-EXCLUSIVE INTERVIEW
Band: HONEY WEST
Musician:  TED ZURKOWSKI
Music Video: "Dementia"
Directed: Maxwell McDonald
New Video "Dementia" from Honey West, featuring Foreigner & King Crimson co-founder Ian McDonald

Honey West is what happens when a British rock giant and an acclaimed member of New York's acting community walk into a recording studio and produce an album of original songs. Multi-instrumentalist Ian McDonald is a founding member of King Crimson and Foreigner, and guitarist and lead vocalist Ted Zurkowski is a member of the world-famous Actors Studio and the co-founder of New York Shakespeare ensemble, Frog & Peach.
Bad Old World is a strong rock 'n' roll album, with drummer Steve Holley (Paul McCartney & Wings) and bassist Maxwell McDonald (McDonald's son). Their first single, "Dementia," represents the band's distinct sound. There's a sly humor that permeates their songs.
This seemingly unusual pairing of McDonald and Zurkowski is a result of fate and proximity. "We literally lived across the street from one another in Manhattan," McDonald explains. "I would notice Ted and his wife as they would come and go, walking their dog and whatnot. We ended up speaking and I discovered Ted was in a band." Zurkowski adds, "We simply plugged in, and immediately clicked."
Asked why it took decades to find himself in a guitar-propelled band, McDonald reckons: "I guess I had never met the right writing partner before. It took a while to meet somebody who wrote great lyrics. There aren't that many great lyric writers who can sing and play guitar as well. When Ted and I got together, I was really pleased to be able to do that."
"Ted's lyrics are very smart," says McDonald. "I like smart lyrics, I like smart music. The songs revolve around a more-or-less complete lyric. That's slightly unusual for me, or for the way things are usually done. This has ended up being a really good partnership."
We talked with Ted Zurkowski about Honey West's new lyric video "Dementia," the album Bad Old World to be released on Friday, May 19, 2017, and about playing with British rock royalty Ian McDonald.
HONEY WEST'S TED ZURKOWSKI Web-Exclusive Interview
with M Music & Musicians magazine publisher, Merlin David
How did the album Bad Old World evolve?
Ian McDonald [King Crimson, Foreigner] and I were living right across the street from each other. As soon as we started to play guitars and write—we clicked. And we've been married ever since. (Laughs) I started taking songs over to him, and we worked on them together. Pretty soon we had a bag of songs. And before we knew it, we were in a recording studio.
Tell us how you came up with the idea of "Dementia"— your first single?
Alzheimer's took my mother, then my father. I got tired of people asking, 'Are you afraid you're going to get it? You should take Vitamin A.' I got angry at people. It's basically me just writing a rock 'n' roll lyric and saying, 'I'm not going that way.' My parents were two gorgeous people. They just couldn't handle getting old. When each of them hit 70, they went downhill. The last decade of their life was absolute horror.
How does acting inform your music?
In the seventh grade (Stamford, CT), there were a lot of great musicians from that area. Marion Meadows, the sax player. A cat from high school used to bring in his friend Benny Goodman to blow clarinet for us—while we wrote harmony lines. Since the time I was 12 years old, I played drums in little bands. And by 13 or 14, I was making money at it—all covers. I was 15 and lied about my age to work in a record store. The record store manager, Bill Cerulli, later played percussion on "Turn the Beat Around" and a whole lot of other hits. As Sammy Davis Jr. would say, 'I just knew a lot of good cats.' (Laughs) Then I caught the acting bug.
Was music or acting your main interest?
Music always came first. Senior year of high school, I caught the acting bug. We did Threepenny Opera—the same musical that influenced Bob Dylan. People should read Dylan's Chronicles. He was 19, came to New York—had the Woody Guthrie half of what this Bobby Dylan person was going to be, but he didn't know the other half. His girlfriend took him to a revival of Threepenny Opera by Berthold Brecht and Kurt Weill. The Doors made Kurt Weill famous with "Alabama Song (Whisky Bar)." Dylan said he walked out of that Greenwich Village theater and knew what the other half was gonna be.
How did the acting influence your writing?
I did a lot of Shakespeare for six or seven years, and then started writing lyrics. In the early 90s, my wife, Lynnea Benson, and I started a Shakespeare company called Frog & Peach here in New York. We're still very happily married—she's got the company and I have the music. I got an offer to write a screenplay, Two Gentlemen from Tijuana. I had a number of different little bands. Then Lynnea hooked me up with Ian [McDonald] about five or six years ago. Ian and I have been working together like crazy.
How did Lynnea meet Ian?
Lynnea said there's this English guy living across the street here on West End Avenue. He's been at all my shows for the last two years, and said he founded a couple of really big bands—King Crimson and Foreigner. (Laughs) One night after a gig, Lynnea said, 'There's Ian on the street.' Funny thing, instead of talking about King Crimson and Foreigner, I wanted to talk about T. Rex. He was all over Electric Warrior—the album that topped the charts. I was asking him, 'How did you stack those saxes for the famous solo of "Get It On" [aka "Bang a Gong"]. He said, 'Normally you'd have the baritone down in the mix and have the tenor sax over it, but I flipped it.' We stood there for 10 minutes on a cold night talking about music, and I gave him a CD I'd self-produced.
Did he actually listen to your CD?
He listened to the CD and called me a day later, and said, 'Bring your guitar, we'll plug in and see what happens.' As he says in the EPK video, as soon as we plugged in, it sounded like one guy—right away we had a two guitar thing. I'm just a rhythm player, but he thought we had that John and George thing going. (Laughs)
How did you work together on this album?
Ian was amazing. We worked across three or four really good studios. Williamsburg and Red Hook—that whole Brooklyn scene with great rooms. There's one place called Mission Sound, where the Arctic Monkeys recorded. It's a big room filled with a bunch of crazy instruments. Ian and I just looked at each other. They had 18 different keyboard instruments—weird things like a clavinet and electric harpsichords. You put Ian out on the floor and it's the same way the Beatles used the instrument room at EMI Abbey Road. No one really thought of Ian as a guitar player, yet he played live all around the world for three years with Foreigner. He's a great guitar player—lead and rhythm. Keyboards, flute, saxophone—he's a master. Synths and anything with keys, anything with wind or reeds, clarinet, you name it—and anything with strings. That almost covers everything. He's the multi-instrumentalist in rock music.
What is your creative process for writing songs?
The subway—best place to write. I spend a lot of time on the subway. I have my cell phone, my notebook, and let my mind flow downstream. As an actor, Strasberg taught me how to get into the inner creative space. It's nothing mystical: you relax, you don't think, and you just see what comes to you in the moment. That's how he taught us how to act at the Actors Studio—that was the method. I let the lyrics come to me. These beautiful chord placings and orchestrations come to Ian. He arranges and produces. We also had a great associate producer, Tim Hatfield. He's terrific. His first job out of college, from Texas in the 80s, was operating the board while Keith Richards went out on the floor and wrote songs for his second solo album. (Laughs)
Tell us one experience where something unique inspired you to write a song.
The opening track on this album—"September Issue." When I was really broke and struggling from time to time as an actor, you get to the end of the summer, and money's tight. In Manhattan, right after Labor Day, you can feel all the money coming back from the Hamptons. You feel this money vibe. I was sitting on a bench in Central Park, thinking 'here comes another September—I'm broke, what am I going to do?' Years later, when I was in a better financial state, I was sitting on the same park bench. I had just seen September Issue—the documentary about Anna Wintour and Vanity Fair. I thought I'd write about a guy, me, who has issues about September. It's really about anybody who dreads another season watching everybody making a lot of money. It always starts with me bringing a lyric and some musical idea to Ian. And he adds all these beautiful Beatles chords and stuff.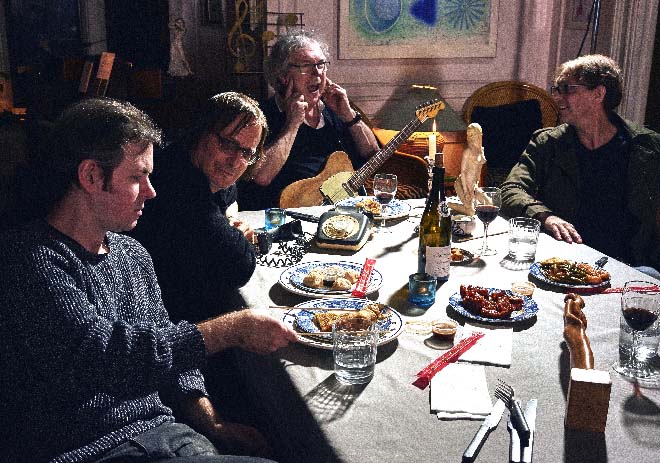 Who inspired you to write songs?
Lyrics-wise, I love John Lennon's flow. The White Album has always been my favorite. I always wished I could write about "The Duchess of Kirkcaldy always smiling and arriving late for tea." If I ever figure out how to make a time machine, 1968 London is where I want to go. I love the songs Lennon came up with between the Magical Mystery Tour soundtrack and The White Album. I love that song "Hey Bulldog." To this day I want to write a song like that or "I'm So Tired." I think they had extra songs and put them in the Yellow Submarine movie. Also the Incredible String Band. The only Pink Floyd I listened to was when Syd Barrett was with them. One music writer said the two greatest psychedelic writers from that era in England were John Lennon and Syd Barrett. It's magical stuff.
What instruments can you not live without—that helps you write, record or perform
I've got this custom-made Stratocaster. It's called Rust, from 30th Street Guitars—made by Matt Brewster. He makes great guitars, and made this terrific guitar for me. It's all over the album. I have a 25-year old Les Paul, which is terrific. I handpicked that guitar from the same store. For two days I was playing 15 different Les Pauls through the same little Fender amp until I finally heard what I thought I was trying to hear. I've got a Telecaster. You always need a Tele. (Laughs) About 10 years, Fender did a Joe Stummer model. It's a great-sounding Tele, and I got it used for $400. It's the best Tele in the world. I also have a Gibson J-45 sunburst acoustic guitar.
Top 5 Musicians who inspired you to become a musician?
Keith Richards, John Lennon, Mick Ronson (Bowie), Ronnie Wood (Faces), Steve Winwood—I'm still trying to figure out what he's doing on "Mr. Fantasy" with that Gibson Firebird. He is my favorite lead guitar player—just for the lead on that song. (Laughs) Also Albert Collins, that old blues guy.
What are your Top 5 favorite albums of all time?
Mr. Fantasy (1968) – Traffic
The White Album (1968) – The Beatles
The 5000 Spirits or the Layers of the Onion (1967) – The Incredible String Band
Wee Tam (1968) – The Incredible String Band
All the Young Dudes (1972) – Mott the Hoopla
Beggars Banquet (1968) – The Rolling Stones
OK, that's more than five. There are so many more. Lots of English music! Someone once called our music Americana, but I say Anglicana.
Best advice someone has given you.
My wife, Lynnea Benson: "Don't think so much." It's the same thing Strasberg taught me at the Actors Studio—stop thinking. Just stop thinking.
What's next?
We have this new lyric video for "Dementia." After the album release on May 19, we have gigs in the New York area—then little summer tours. We've got another bag of about 15 new songs that aren't finished. We'd love to get back into the studio later this year and work on some of those songs. But we don't want to get ahead of ourselves. The focus now is to see what happens with this new album.
Where can your new fans get more info and stay updated?
HoneyWestMusic.com