LIFEHOUSE
Inspiration and experimentation lead to a sound shake-up on their latest   
Since their 2001 monster hit "Hanging by a Moment," Lifehouse has sold more than 15 million albums worldwide. But the big numbers are just a byproduct of the band's vision. "We've been a pretty insulated group," says lead singer Jason Wade. "We're on the same label as these acts like Black Eyed Peas, U2 and Lady Gaga, but we do our own thing." Wade and his bandmates—drummer Rick Woolstenhulme Jr., bassist Bryce Soderberg and guitarist Ben Carey—continue to stretch the stylistic limits with their sixth album, Almería.
What are the secrets to your longevity?
The arc of our career has been interesting. After "Hanging by a Moment," we were getting dangerously into that one-hit wonder zone. The second record didn't do that well, and we were faced with that dreaded sophomore slump. Soon after that our bassist and guitar player left, so we were in limbo for 2002 and 2003. Then the label went bankrupt. But we cut some demos in the studio and rediscovered our love of music.
What was the turning point?
Bryce and Ben came onboard and gave us a new start. Then we found Geffen was going to pick up our next project (2005's Lifehouse), and the success of "You & Me" happened right after that. Those times were an eye-opening experience. It makes you take a look in the mirror. I don't have a college education, so I don't have a lot of other options. It's really this blue-collar mentality that's kept the band thriving. We've worked hard on the road. Even when we disappeared, we kept playing shows and getting out there.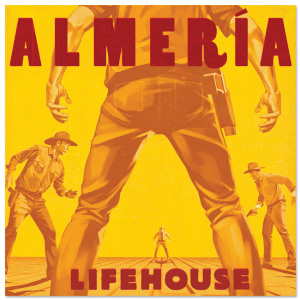 How has the band stayed together?
The biggest thing is this group is doing it for the right reasons. Ten percent of the time you're onstage, but the rest you're stuck on a bus. You have to get along. We have this familiar vibe with each other. It also helps us to be unorthodox instead of coming up with the same stuff.
How do you keep the sound fresh?
It's all about experimenting and finding new inspiration. This album was a crossroads for us. You can do the same thing, or you can mix things up. We were about halfway through recording when I went into the studio and started throwing all these different sounds out there. We decided to experiment with it like when we were kids. You can sometimes know too much and think too much. With a lot of songs we were just free-painting with the sound landscape.
What's your songwriting process?
I usually pick up a guitar or sit at the piano and come up with a few chords until I start singing. I don't want to be taking cues from what's popular. Whenever I try to write a hit, it's usually the worst song I've ever written. For this album I needed to sort of trick my brain. We wanted to strip the music down to its essence and find that spark. We were looking for that visceral reaction, not something calculated or premeditated. We're not making pancakes. We're looking for a song to resonate with someone.
What was it like working with Peter Frampton and Natasha Bedingfield?
This was the first time we'd had featured guest artists on one of our albums. Peter was someone who was desperately needed to infuse new life into this album; the same with Natasha Bedingfield. There was this special magic during the recording—definitely some of the best days of our lives.
–Blake Boldt